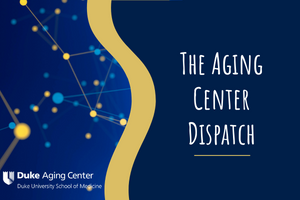 Events:
Geriatrics Grand Rounds: Works in Progress Studio – Dr. Yanamadala & Dr. McDermott
Monday June 5, 12pm-1pm
Aging Center Hub 2514 & Zoom
Health Disparities Research Works in Progress Seminar – Equity in Perioperative Treatments, Dr. Karthik Raghunathan
Monday June 5, 12pm-1pm
Virtual – Zoom Link
Duke Center for Geriatric Surgery Research Meeting – Clinical Application of Dual Task Intervention in the Perioperative Period, Carrie Frede, PT, DPT, CCS & Hannah Barrett, OTR/L, BCG
Tuesday June 6, 8am-9am
Virtual – Zoom Link
Medicine Grand Rounds – 2023 Clipp-Speer Medicine Grand Rounds: Dr. Consuelo Wilkins, Vanderbilt Division of Geriatrics
Friday June 9, 8am-9am
Trent Semans Great Hall & Zoom
---
Professional Development Opportunities for Trainees & Early Stage Investigators:
Health Equity Scholars Program for early career ADRD investigators
The Health Equity Scholars Program (HESP) provides future investigators in the field of Alzheimer's Disease and Related Dementias (ADRDs) with the knowledge, skills and resources to become culturally competent and proficient researchers. HESP provides a tailored mentored training approach to advance career success and satisfaction among its trainees.
The Health Equity Scholars Program will be holding two Q&A sessions to allow potential applicants and their mentors an opportunity to ask questions about the program and the application process.
Monday, June 5th at 3:00-3:45pm CST
Wednesday, June 7th at 10:00-10:45am CST
Both Q&A sessions can be accessed using this Zoom link: https://uwmadison.zoom.us/j/93937283350?pwd=cXNxL0VGMVcva0xRUys0SXk3d2dsdz09.
Understanding NIH Grants – Virtual Seminar 6/29/23
The DCI Office for Cancer Research Training and Education Coordination invites trainees to a virtual seminar with NCI Program Director Dr. Grace Ault on Thursday, June 29 at 4pm. Dr. Ault will discuss the mechanics of how things work at NIH, including:
How the NIH is structured to handle grant applications

What people in various roles at NIH do and who to talk to

Issues concerning how grants are reviewed  
Early stage investigators and junior faculty will find the information valuable, though postdocs and graduate students may also gain useful insights for future planning.
Registration is required in advance of the session here.
---
Feel-good Aging News!
Meet the NBA dancers strutting into their Golden years: The Golden State Warriors "Hardwood Classics" dance team range in age from 55-77, and they light up the court with their healthy aging swagger.  Check out the whole story and video clips on the NPR website