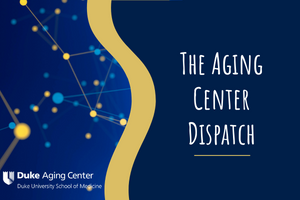 Events at Duke this week:
Geriatrics Grand Rounds - Gerontologizing the Learning Health System: the Electronic Frailty Index and Care of Older Adults
May 22, 2023 | 12:00 pm to 1:00 pm
Pepper Center Data Integration Working Group (DIWG)
May 25, 2023 | 9:30 am to 11:00 am
Medicine Grand Rounds: Heather Whitson, MD, MHS and Dave D'Alessio, MD – 2023 Neil Spector Art of Medicine Awardees
May 26, 2023 | 8:00 am to 9:00 am
Save the date! 
Coffee and Conversation with Dr. Louise Aronson at 10am on May 31st. 
Join us in person at the Aging Center Hub 2514, or listen in via Zoom (email agingcenter@duke.edu for link). 
Research Grant Awarded

 – Nathan Boucher has received a year-long grant from the

 Veterans Health Administration National Center for Patient Safety in Ann Arbor, MI - 

https://www.patientsafety.va.gov/

. The project will run August 2023-July 2024, and he will be working (remotely)

as their researcher/evaluator using survey and qualitative methodology to examine patient safety personnel use and quality of patient safety procedures across the entire VHA Health Care System. Working with the national team, the goal is to characterize current use and recommend areas of realignment for a cross-VHA strategy.  Congratulations, Nathan!
Recent publication on the value of engaging frontline clinicians as research collaborators -

 

Nathan Boucher and collaborators have a publication out in the April 18 JGIM titled "Frontline Clinician Appraisement of Research Engagement: "I feel out of touch with research".

Link to published work: 

https://link.springer.com/article/10.1007/s11606-023-08200-9
Advocacy opportunity:
Help Ensure Age-Friendly Hospital Care – an call for advocacy action from John A. Hartford Foundation
Visit the JAHF website to read all the details about the two age-friendly hospital care measures that CMS is considering adopting, and consider submitting a comment by June 9th in support of the measures.  There is a template letter and a link to the public comment portal on the JAHF site, and you can learn why these measures matter by reading this Health Affairs commentary.