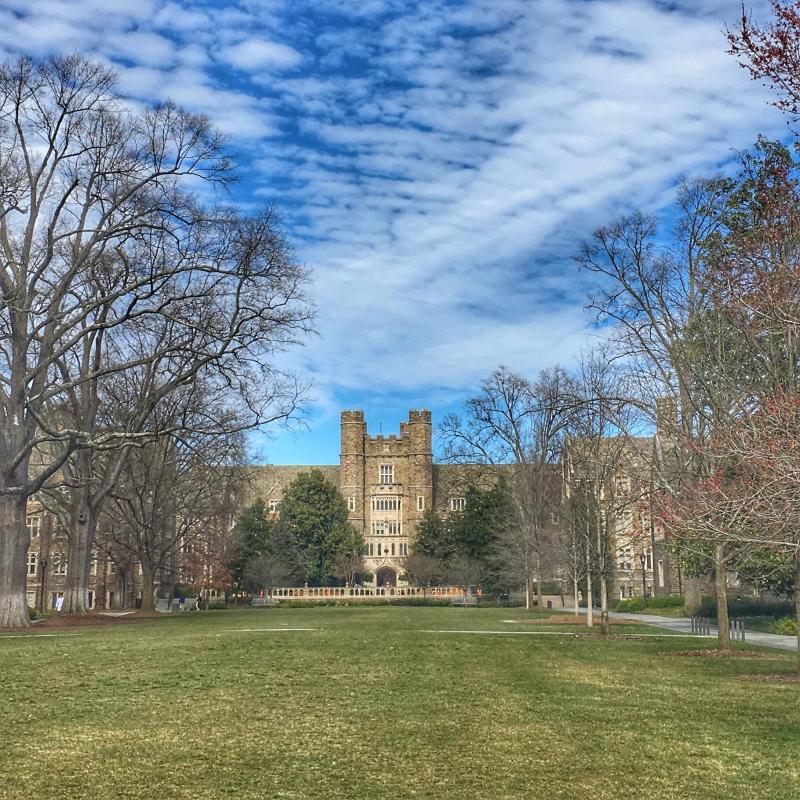 Week of September 18, 2023
Events this week:
RSV Vaccine: Geriatrics Grand Rounds
Dr. David Nace
Monday September 18, 2023 | 12:00 pm to 1:00 pm
Joint effects of the APOE gene cluster variants in genetics of Alzheimer's diesease and related traits
Alexander Kulminski, PhD & Igor Akushevich, PhD
Duke/UNC ADRC All Hands Scientific Talk
Tuesday September 19, 2023 | 3:30 pm to 4:30 pm
A conversation with Vinod Khosla, Hosted by Dr. Murali Doraiswamy and Dr. David Ridley
Duke Fuqua School of Business Center for Health Sector Management
Wednesday September 20, 2023 | 12:00 pm to 1:30 pm
Research on Epigenetics, Weathering, and Residential Disadvantage (REWARD)
Dr. Michal Engelman
DUPRI Seminar Series
Thursday September 21, 2023 | 12:00 pm to 1:15 pm
SSRI-Gross Hall 270
Stead Tread 5K run/walk 2023 – Benefitting Lincoln Community Health Center
Saturday September 23, 9am
Solite Park, 4704 Fayetteville Rd, Durham 27713
Registration is $35 per person age 13+ and free for 12-and-under.  Follow this link to register and join Team Geriatrics at this fun and important event!  You can run or walk, and strollers are welcome.  Register by September 1 to get a Stead Tread 2023 t-shirt.  Dr. Colon-Emeric will be happy to pay for any Geriatrics fellows who want to participate!
Save the Dates:
Duke Ice Cream Social @ GSA 2023 in Tampa!
Friday, November 10 from 9pm-11pm
Bright Ice Scoop Shop on Water Street (adjacent to headquarters hotel)
Annual Aging Center Research & Education Showcase and Wrenn Lecture
Friday, December 15 from 8:30am-1:00pm
Trent Semans Great Hall
---
In the News:
Leveling the Playing Field: Maria Marquine's Mission to Advance Latino Health Equity
Don't miss this incredible article on Maria Marquine's groundbreaking work and the path that led her to find her research passion.  Thank you to Liz Switzer and the Department of Medicine for this illuminating story!
---
Current Funding & Other Opportunities:
Duke Aging Center NIA T32 Postdoctoral Research Training Program – priority application deadline for 2024-2025 cohort is October 1, 2023
ADRC Core Funding Opportunities – Letters of Interest due 10/16/23
2023 Beeson Annual Meeting Travel Awards
The Paul B. Beeson Emerging Leaders Career Development Award Program is offering up to 5 travel awards to early stage clinically-trained investigators who could benefit from the opportunities provided by the Beeson Annual Meeting, to be held November 15-17, 2023 in Santa Ana Pueblo, NM, and who could potentially enhance and diversify the Beeson Scholars pool in the future. The travel award (up to $2,000 per person) is intended to cover travel to and from the meeting, and hotel accommodation. Successful applicants will be conducting basic, translational, clinical, or patient-oriented research in disciplines relevant to aging and geriatrics.
The deadline to apply is September 18, 2023. For more information and to apply, view the RFA here.
Duke Physician-Scientist "Strong Start" Program – Applications due 10/2/23
Latest NIA Funding Opportunities
Bass Connections Proposals - Bass Connections is now seeking proposals for year-long, team-based research projects that engage faculty, undergraduates, and graduate/professional students in the interdisciplinary exploration of complex societal challenges. Please see the project proposal guidelines.  Proposals due 11/6/23
Upcoming Roybal Center lectures and webinars – 5Ts, State of the Science, and Specific Aims Writing Workshop
Duke SOM Office for Faculty is accepting applications for four 2024 Leadership Programs – Applications are due 11/3/2023
ADVANCE-UP

(for Early Career Underrepresented Racial and Ethnic Faculty)

ALICE

(for mid-career women faculty)

DCLP

(for mid-career faculty members with clinical responsibilities)

LEADER

(for junior faculty who are leading a research team)