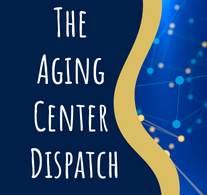 Happy Academic New Year, and warmest welcome to all of our new fellows, postdoctoral researchers, and faculty members! 
---
Events & Save the Dates:
Geriatrics Grand Rounds: Introduction to Geriatrics & Gerontology – Dr. Harvey Cohen
Monday July 10, 12pm-1pm
July GeriaTrek: West Point on the Eno
Saturday July 22, 9am
West Point on the Eno Park, 5101 N. Roxboro Rd, Durham 27704 – meet at the historic mill
Join us for our first GeriaTrek outing of the new academic year!  We'll plan on an easy, 1.6 mile kid-friendly route starting at the old mill at West Point on the Eno.  Your 2 and 4 legged friends and family members are all welcome.  Wear sturdy shoes, bring a water bottle, and keep pups on leash.  Feel free to wear your bathing suit and stay at Sennet's hole for a swim.   Lost or late?  Cathleen's cell is 919 323-1236
Retirement Party! Celebrating Aging Center Statisticians
Thursday July 27, 5pm-6:30pm
Gizmo Brew Works Durham Taproom – 3109 Shannon Rd, Suite 201, Durham 27707
Stead Tread 5K run/walk 2023 – Benefitting Lincoln Community Health Center
Saturday September 23, 9am
Solite Park, 4704 Fayetteville Rd, Durham 27713
Registration is $35 per person age 13+ and free for 12-and-under.  Follow this link to register and join Team Geriatrics at this fun and important event!  You can run or walk, and strollers are welcome.  Register by September 1 to get a Stead Tread 2023 t-shirt.  Dr. Colon-Emeric will be happy to pat for any Geriatrics fellows who want to participate!
---
Current Funding Opportunities:
Microbes in Alzheimer's Disease Pilot Awards – Two $85,000 awards. PI must be Duke faculty, LOI Due 7/10/23
REACH Equity/Jones Endowment RFA - Funding is available from the Robert Randolph Jones III Memorial Fund to support and mentor an early-stage investigator (fellow or junior faculty) to contribute to an on-going REACH Equity research project by adding a focus on hypertension control. Applications due 7/31/23
ADRC RFP for innovative neurodegeneration-related discovery research in Basic Brain Science – One $100,000 award. Open to Duke SOM Faculty, LOI Due 9/15/23