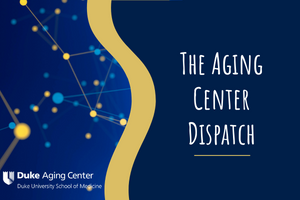 Events:
Geriatrics Grand Rounds
cancelled for Monday May 29 – Memorial Day Holiday
Coffee and Conversation with author and geriatrician Louise Aronson
Wednesday May 31, 10am-11am
Aging Center Hub 2514 (Zoom link available by request – email agingcenter@duke.edu)
Librarian Office Hour: NIH Data Management and Sharing Policy
Thursday June 1, 9am-10am
Virtual
Medicine Grand Rounds: The Department of Medicine Year in Review, Dr. Kathleen Cooney
Friday June 2, 8am-9am
DN 2002 or Zoom
Annual REACH Equity Colloquium -- Ending Health Disparities: Moving from Descriptions to Solutions, Keynote speaker: Monica Webb Hooper, PhD – Deputy Director of NIMHD
Friday June 2, 9am-12:30pm
Zoom
Registration: https://tinyurl.com/REACHColloq2023
And something just for fun… Nasher Community Celebration
Saturday June 3, 12pm-4pm
Nasher Museum of Art – free and open to all
---
Good news!
Dr. Marianne Chanti-Ketterl received a 2024 Distinguished Alumni Award from the University of South Florida.  Marianne is a gerontologist whose focus is the epidemiology of aging.  She is an alumna of the Duke Aging Center T32 Postdoctoral Research Training Program, the Junior Associate Core Leader (JACL) in the ORE Core of the Duke/UNC ADRC, and an Assistant Professor of Psychiatry and Behavioral Sciences.  Congratulations, Marianne, on this well-deserved honor!
---
In case you missed it:
Duke Today published an article on Dr. Len White's decade of innovative, globe-spanning, online teaching in neuroscience.  Read all about it here:https://today.duke.edu/2023/03/decade-global-reach-len-whites-backyard
"All of our meals are important; I don't think breakfast is the most important meal, (but it) kick-starts the process for our body to function properly."
Kathryn Starr,

associate professor in the Department of Medicine, Aging Center Senior Fellow, and Aging Center T32 Alumna quoted in

The New York Times

about how eating breakfast regularly is associated with a range of health benefits. The story can also be accessed on

DNYUZ

.