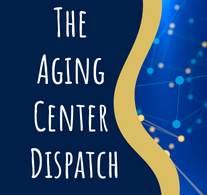 Duke Aging-related events roundup for the rest of April:
Medicine Grand Rounds featuring Aging Center Senior Fellows Brian Andonian, MD, MHSc and Kim Huffman, MD, PhD
Going Beyond Pharmacotherapy: Lifestyle Interventions for Improving Health in Patients with Rheumatoid Arthritis
April 21, 2023 | 8:00 am to 9:00 am
Physical Rehabilitation in Complex Illness: DPT Visiting Professors Symposium
April 21, 2023 | 12:00 pm to 1:30 pm
Pepper Center Data Integration Working Group (DIWG)
April 23, 2023 | 9:30 am to 11:00 am
Geriatrics/Palliative Care Combined Grand Rounds
April 24, 2023 | 12:00 pm to 1:00 pm
Pepper Center Data Integration Working Group (DIWG)
April 27, 2023 | 9:30 am to 11:00 am
NIA Clin-STAR Webinar: Imposter Thoughts and Career Development, let's talk about it
April 27, 2023 | 4:00 pm to 5:00 pm
---
Save the Dates for May:
Duke Geriatrics @ AGS Social and Celebration
Thursday, May 4 from 7:00 pm to 9:00 pm PACIFIC TIME
Long Beach, CA
New Approaches for Understanding the Potential Role of Microbes in Alzheimer's Disease: A Virtual Symposium & Workshop
May 16, 2023 | 12:30 pm to 3:30 pm
Duke/UNC ADRC SLAM-DUNC at UNC Pembroke
May 18-19 in Pembroke, NC
Coffee & Conversation with Dr. Louise Aronson
May 31 from 10:00 am to 11:00 am at the Aging Center Hub 2514.  Zoom link available by request – email agingcenter@duke.edu
---
Good News from Aging Center Senior Fellows:
Dr. Heather Whitson receives 2023 Neil L. Spector Art of Medicine Award
Dr. Galanos reflects on 25 years of Duke Palliative Care
Dr. Shuo Han's research explores the gut microbiome as a potential key to healthy aging
Dr. Len White marks a decade of teaching medical neuroscience to thousands worldwide through his innovative online curriculum
Dr. Murali Doraiswamy on robots and the future of social connectedness for isolated elders
---
Other events of interest to our community:
Trent Humanities in Medicine Special Event – "Journeys End, Journeys Begin: A Story of Accompaniment in Complex Grief"  A conversation between Alison Hartman and Shapir Rosenberg, MD.  Thursday, April 27 from 5:30pm-7:00pm at Trent Semans Center Great Hall.  Register here: https://duke.qualtrics.com/jfe/form/SV_3ZZBTPPmBKx1HNQ
Durham Dementia Community Event:  Dementia Inclusive Incorporated is sponsoring a Community Event on Saturday, April 29 to include people living with dementia or anyone with an interest— all are welcome!  The event is free and lunch will be served.  You can learn more and register at DII's website: https://www.dementiainclusiveinc.org/resources
"Caring for Older Adults: Diversity in Caregiving Experiences" hosted by the Michigan Center on the Demography of Aging (MiCDA). The webinar will be held on Friday May 5 from 12-1:30 pm (ET).  Please register HERE  if you would like to receive the zoom link to attend.