Welcome to The Weekly Dispatch - your source for news and events in the field of Aging & Geriatrics at Duke.
What's New?
Greetings from Duke Aging Center, and welcome to the (beta-testing) first edition of The Weekly Dispatch.  This replaces the "Aging Center Bulletin" and utilizes the content and capabilities of the Aging Center's robust new website to keep the community up to date on events, opportunities, and news relevant to Aging and Geriatrics at Duke.  Please send feedback about the new format to agingcenter@duke.edu - this is a work in progress!
Event highlights for the week of 9/19-24
Happy 1st Birthday to the Duke/UNC Alzheimer's Disease Research Center!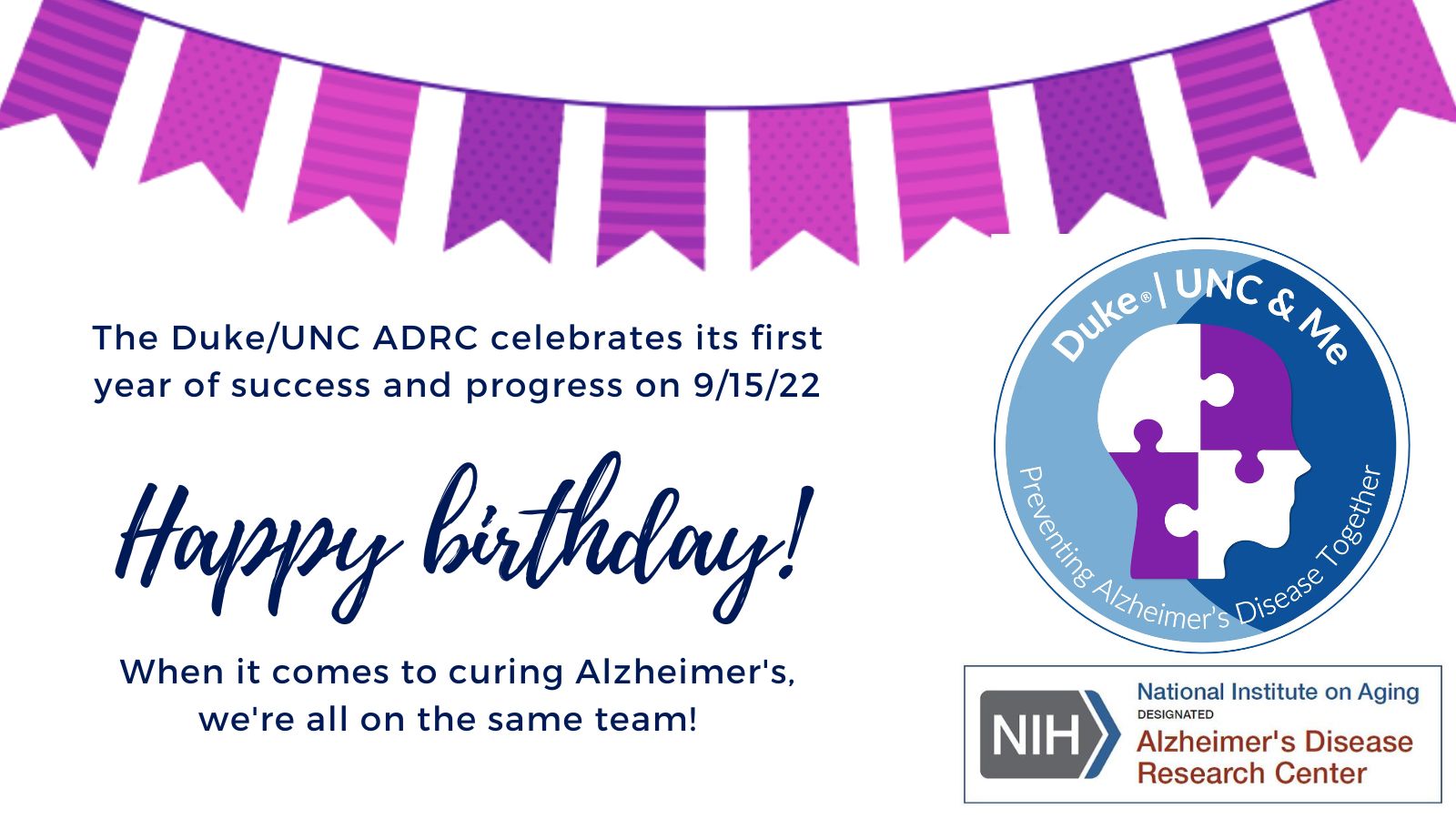 Duke/UNC ADRC RFAs
The Duke/UNC ADRC has released two new RFAs:
2-Year Career Development Scholar Awards
1-Year Developmental Project Awards
Visit the ADRC Funding Opportunities page for full details
---
Duke Roybal Center Pilot Funding RFP
Duke Roybal Center requests proposals for Pilot Projects in Development, Testing, and Implementation of Behavioral Interventions in Aging Research.
Visit the Roybal Center website for full details
---
Geriatrics Academic Career Awards (GACA)
The Health Resources and Services Administration is accepting applications through November 3, 2022. The purpose of the GACA program is to support the career development of junior faculty as academic geriatricians or academic geriatrics specialists.
Visit Grants.gov for full details
---
Call for Applications: Fund to Retain Clinical Scientists at Duke
The School of Medicine Office for Faculty and Office of Physician-Scientist Development are now accepting applications for the Fund to Retain Clinical Scientists at Duke. Supported by awards from the American Heart Association, Doris Duke Charitable Foundation and Dean Mary Klotman, the Fund provides supplements of up to $30,000-$50,000 to clinician-scientists with significant caregiving responsibilities. Supplements are for 1 year, with the possible option to apply for a second year. This application cycle is for funding from January 1-December 31, 2023.
Applications are due October 14, 2022.
Click here for complete program information, eligibility criteria, and application instructions.
Academic DeVelopment, Advocacy, Networking, Coaching and Education for Underrepresented Populations
The School of Medicine Office for Faculty is now accepting applications for the ADVANCE-UP Faculty Development Program.  The program aims to provide unique enrichment activities designed to focus on challenges underrepresented racial and ethnic faculty (UREF) encounter in academic medical centers. ADVANCE-UP ultimately seeks to create a network of scholars that will enhance the sense of community among underrepresented faculty, foster timely promotion, and increase representation in leadership positions.
---
School of Medicine LEADER Program | Apply by 10/21/22
LEADER is a 6-month interactive program designed to equip early career faculty with leadership skills to effectively establish and manage a research group or team. The program provides insight into leadership and team building, improving productivity, harnessing creativity and innovation, and inspiring a team to realize your scientific vision. This course provides a unique opportunity to work with a diverse and multidisciplinary group of faculty and to network with other researchers from across the university.
---
Bass Connections seeking proposals for interdisciplinary projects | Apply by 11/7/22
Bass Connections is now seeking proposals for year-long, team-based research projects that engage faculty, undergraduates, and graduate/professional students in the interdisciplinary exploration of complex societal challenges. Funding ranges from $5,000 to $25,000. Graduate/professional students, postdocs, and trainees/fellows may also propose projects, but all projects must have at least one faculty leader.
Faculty may submit proposals to any of six themes, including Health Policy & Innovation, the newest interdisciplinary theme. Projects that fall outside of these themes may be submitted through Bass Connections Open.
Faculty may also propose a summer Data+ or Story+ project now through the same proposal submission process.
For questions, or to discuss project ideas, please contact Laura Howes (director of Bass Connections) or a theme leader, or drop into the Bass Connections RFP office hours (https://duke.zoom.us/j/99393877201):
Friday, September 30, 9:00-10:00 

Friday, October 14, 1:00-2:00

Friday, October 21, 11:00-12:00