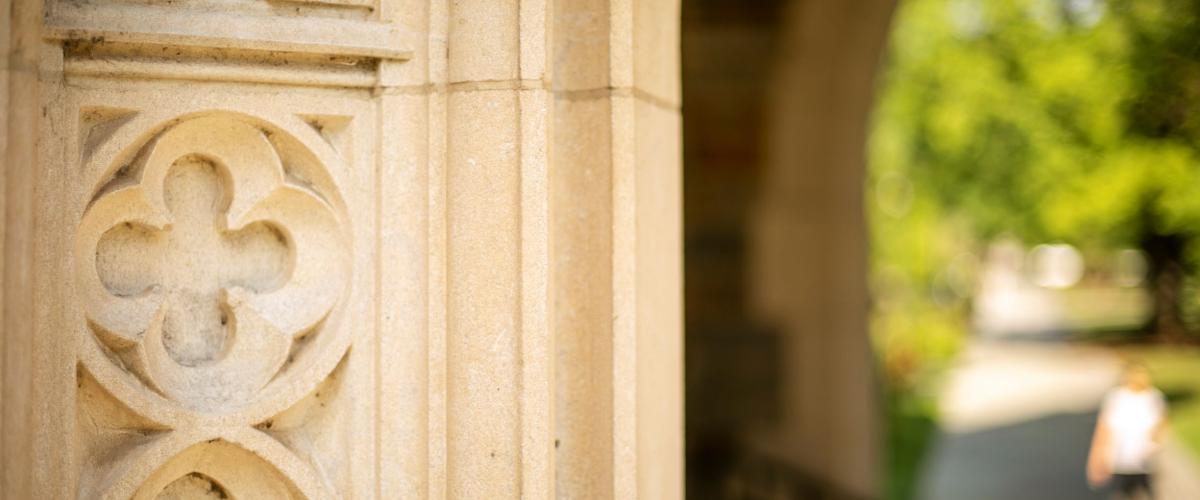 The strategy for the OAIC is to serve as a sustained resource to investigators through a broad range of training and research studies; with a goal to address knowledge gaps in our focus area of optimizing reserve and resilience with an emphasis on translational and interdisciplinary research.
Major Research Programs
The Physical Performance Across the Lifespan (PALS) Study is a collaboration between the Duke Pepper Center and the MURDOCK Study. Briefly, the PALS Study explores dimensions of health, function, behavior, and physiologic characteristics in a cohort of 1,000 adults aged 30-90+, with oversampling across the older decades. The PALS study includes a comprehensive assessment battery at two time-points: baseline and 2-year follow-up, which concluded in 2018.
---
The PALS Data Use Request Form streamlines requests for PALS data and facilitates communication between investigators and PALS/Pepper leadership. In addition to specifying what information is needed to make a request, a standardized description of the PALS cohort and publication-related details are provided.
---
The PALS Data Dictionary is a reference for variable names, field types, and field descriptions for the current subsets of PALS data: Baseline questionnaire, Montreal Cognitive Assessment (MoCA) test battery, Health Self-assessment questionnaire, Physical performance tests, Two-year follow-up questionnaire, Metabolomics assays, and Accelerometer-derived variables.
---
The PALS Codebook is a comprehensive overview of PALS data and associated MURDOCK data, including statistical summaries and graphs. The Codebook also includes an abbreviated version of the PALS data dictionary.
NOTE: The PALS Codebook will be updated as new data become available. Always check the revision date on the Codebook title page to insure you have the most recent reference.
ACCELERATE: Linking ACCELerometer and EHR dATa for Early detection of poor physical activity is a collaboration between Duke Pepper Center and Duke FORGE teams to leverage Electronic Health Record (EHR)-based data to provide a targeted and scalable process for early identification of poor physical activity as an alternative to traditional screening. Juliessa Pavon, MD, Project Leader, links physical activity (PA) data measured by accelerometers to patient clinical characteristics and outcomes using the EHR. Despite the importance of metrics of physical activity in making health care decisions, PA is not routinely captured in clinical encounters, or in a discrete and uniform method.
In recent years, activity tracking through accelerometry has become an important component of clinical monitoring and has the potential to increase our understanding of basic medical conditions. For example, activity monitoring in several large epidemiological studies is highlighting the importance of low physical activity on health outcomes in major chronic diseases. As a result, the addition of accelerometer-measured activity at Duke could aid in the detection of poor physical activity in these high risk populations, many of which go on to seek geriatrics services.
Results from this study will provide foundational new knowledge regarding the clinical utility of an EHR digital algorithm to detect an important patient outcome: poor physical activity, as measured by objective accelerometer data. Providing clinicians with the ability to monitor these patients most in need of early geriatrics care interventions, and modify treatment course to promote healthy aging and resilience, is consistent with key stakeholder goals of Duke FORGE and the Duke Pepper Center.
Funding for Dr Pavon's research is provided by the Duke Department of Medicine Health Data Science grant program.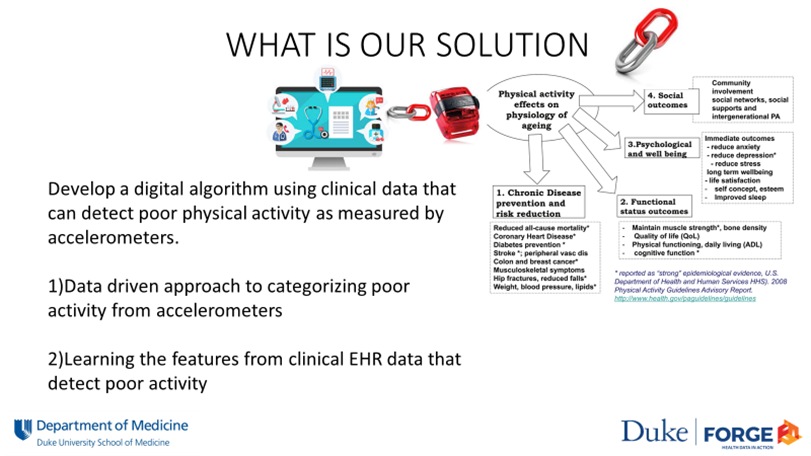 ---
Publications:
Pavon JM, Fish LJ, Colón-Emeric CS, Hall KS, Morey MC, Pastva AM, Hastings SN. Towards "mobility is medicine": Socioecological factors and hospital mobility in older adults. J Am Geriatr Soc. 2021 Jul;69(7):1846-1855. PMCID:8273111
Pavon JM, Sloane RJ, Pieper CF, Colón-Emeric CS, Cohen HJ, Gallagher D, Hall KS, Morey MC, McCarty M, Hastings SN. Accelerometer-Measured Hospital Physical Activity and Hospital-Acquired Disability in Older Adults. J Am Geriatr Soc. 2020 Feb;68(2):261-265. PMCID:7002200
Pavon JM, Sloane RJ, Pieper CF, Colón-Emeric CS, Gallagher D, Cohen HJ, Hall KS, Morey MC, McCarty M, Ortel TL, Hastings SN. Physical Activity in the Hospital: Documentation and Influence on Venous Thromboembolism Prophylaxis. J Aging Phys Act. 2020 Apr 24;28(2):306-310. PMCID:7210062
Pavon JM, Sloane R, Morey MC, Hastings SN. Inpatient Mobility Measures As Useful Predictors of Discharge Destination in Hospitalized Older Adults. J Am Geriatr Soc. 2017 Jan;65(1):224-226. PMCID:5832492
The National Institute for Disability, Independent Living, and Rehabilitation Research (NIDILRR) awarded the LiveWell Rehabilitation Engineering Research Center Program (RERC) to a team from Duke University, Shepherd Center, and Northeastern University. This program funds advanced engineering research and development of innovative technologies to solve rehabilitation problems or remove environmental barriers for people with disabilities.
A multidisciplinary team of clinicians, engineers and researchers collaborate with Duke Pratt School of Engineering, Duke School of Medicine, Duke Center for Cognitive Neuroscience, Duke Aging Center, Durham Veterans Administration Medical Center, Navy Air Warfare Center Training Systems Division, and the Southeastern Federal Laboratory Consortium. The R&D program merges engineering and clinical aspects of ICT/AT technology design with outcomes research supported by federal, state, industry and philanthropic/development grants.  Through their work with the RERC Engineering Team, Kevin Caves, ME ATP RET of the Physical Measures Core and his research colleagues, including Leighanne Jarvis, Sarah Moninger, Juliessa Pavon, MD, and Chandra (Sandy) Throckmorton, PhD, are defining and refining new technologies to assist in real-time assessment of physical activity. 
---
Samples of the team's Technology and Physical Assessment Research:
The Ecological Momentary Assessment (EMA) App utilizes an accelerometer in a watch to monitor individual activity levels in people who have difficulty delivering accurate self-reports to their clinical team. Individuals may also respond to personalized activity surveys on their watch or smartphone to record type and time of activity.
---
Gait or walking speed is a strong predictor of functional status and survival among older adults, but traditional measurement techniques may be prone to error between timers and trials. The Duke team is working to develop a low cost device that uses a LIDAR (Light Detection and Ranging) sensor and micro-controller to measure and display walking speed.
---
Movement and posture have been found to be predictors of hospital re-admission. Researchers are fine-tuning algorithms used to classify posture, with particular attention to elderly populations.
Sensor feedback may also be relayed to patients at risk of falling, e.g. Parkinson's Disease patients, to improve posture. A trial study is planned for this population.